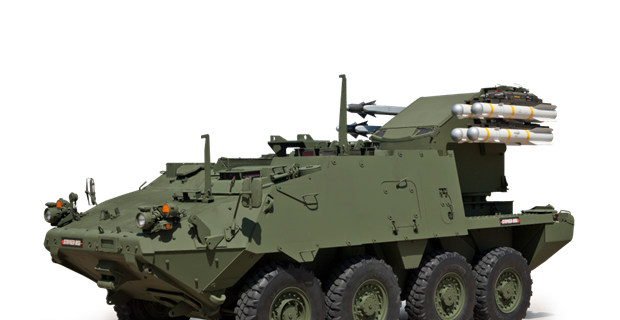 General Dynamics Land Systems has unveiled a new missile-armed Stryker able to destroy enemy drones, aircraft and incoming attacks with vehicle-mounted Hellfire weapons.
The new variant integrates an Avenger launcher turret onto the back of a reconfigured Stryker vehicle to bring offensive and defensive fire-power close into the fight where armored Strykers can operate more effectively than tactical vehicles.
GDLS has engineered the vehicle, called a Stryker Mobile SHORAD (Short-Range Air Defense) Launcher - or Stryker MSL – to address an Army urgent operational need for closer-in air defenses in mechanized or asymmetrical combat scenarios.
The emerging prototype Stryker MSL platform, which uses a three-man crew, is able to fire a Hellfire missile, AIM-9X or Longbow Hellfire, Land Systems developers said.